The failure of the 2021 FMCO
I argue that the failure to stop workplace clusters from happening was why the 2021 FMCO failed in the Klang Valley, Johor, Pulau Pinang and Negeri Sembilan. Please see this pdf here. In addition, please see this press statement (with IDEAS and Bait Al-Amanah), urging the federal government to address this issue ASAP.
A reopening criterion for Penang
A reopening criterion for Penang (as well as other states in Malaysia) at the district level, based on the basic reproduction number and daily new cases per 100,000 population.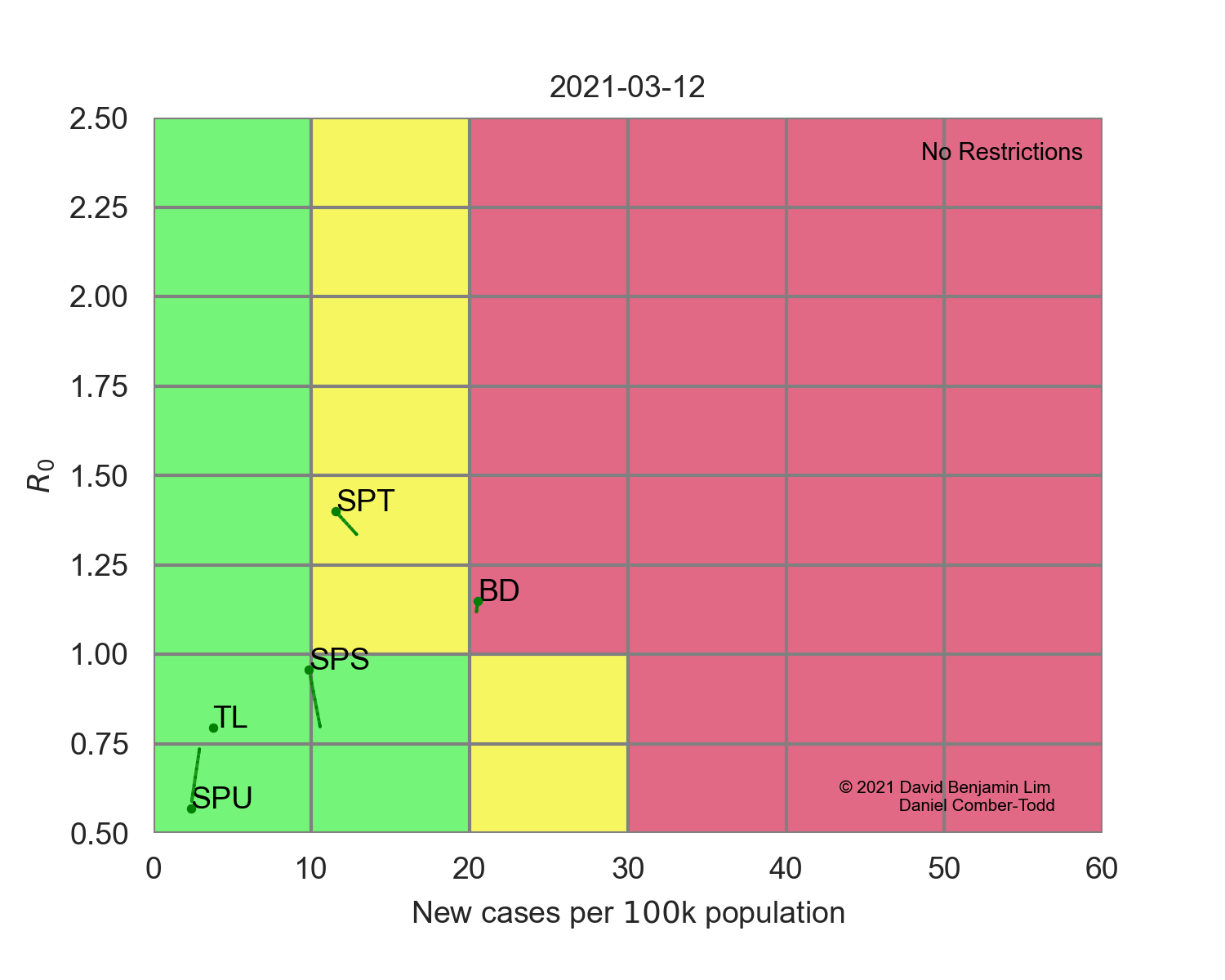 The gif above shows the evolution over time of ($R_0$, daily new cases/100k) for each of the 5 districts in Penang, i.e. Timur Laut, Barat Daya, Seberang Perai Utara, Seberang Perai Tengah and Seberang Perai Selatan. These have been abbreviated respectively as TL, BD, SPU, SPT, SPS.
The criterion for reopening that we suggest depends on determining thresholds shaded green, yellow and red in the figure above. In theory, these thresholds are a function of the state of the healthcare system, e.g. ICU occupancy and vaccination rates. However, since I do not have access to the data of ICU occupancy rates in Penang, I shaded in thresholds determined empirically from past data: Go back in time and record the date that is two weeks or so
prior
to the healthcare system being overwhelmed. Record ($R_0$, daily new cases/100k) around then, and set that to be your threshold.
The code to calculate $R_0$ for each district of (of any state!) in Malaysia is available on my GitHub here. The basic reproduction number was calculated using the method of ordinary least squares applied to daily new case numbers over a short time frame.
2021 Bayan Baru Donation Drive
The goal is to raise RM 50,000 (approx. USD 12,000) to be distributed as cash to B40 families around the area of Bayan Baru, Penang, Malaysia during the 2021 FMCO (Full Movement Control Order). The GIVE.asia page to donate is here. This project is joint with the member of parliament for Bayan Baru, YB Sim Tze Tzin.